Construction and Maintenance of Overhead Lines
Construction and Maintenance of Overhead Lines
Construction and Maintenance of Overhead Lines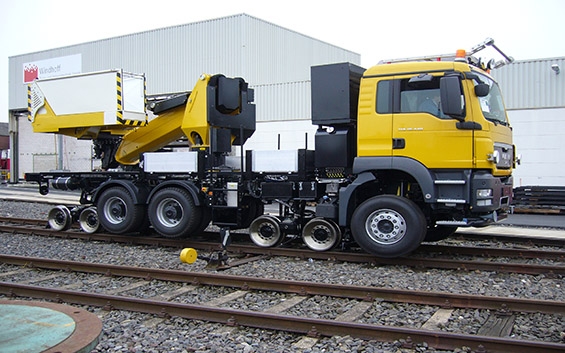 We offer systems for installing new or replacing existing overhead catenary systems. Our solutions will efficiently handle all details, i.e. from preparing mast foundations to placing the masts, installing the wires and carrying out measurements from rail and catenary systems using advanced lasertechnology.
Catenary Installation
The catenary is a vital component of the railway system. Installation and maintenance of overhead lines assure the availability of electrified lines in a cost-efficient way. The machine is able to install and remove contact wire and carrying cable in just one operation without twisting and with the requiredtension for train services.
Overhead line Maintenance Vehicle
This to make sure that the overhead lines are in good working order both electrically and mechanically at all times by performing inspections and repairs regularly.
Construction and Maintenance of Overhead Lines Projects