Cleaning Systems
Cleaning Systems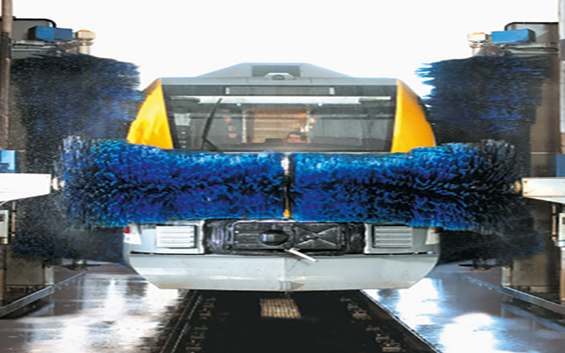 Automatic Train Wash
This high-tech train wash machine senses the different train car shapes and can be set up to wash the train entering from either end of the wash bay. The train wash system can wash the train front, roof and end in one run. The system is available with multiple wash programs to better suit the customer's wash needs.The train wash system has high density brushes for the side and for the roof. The machine can be delivered with a dryer/blower system. We also provide systems which can register and identify trains.This transponder will help collect data and automatically select different wash programs for different style of trains.
Mobile Train Wash
This is a special mobile machine for washing trains in the stations and depot areas. A mobile, fast, train washing machine which avoids expensive shunting of rolling stock to an often too distant washing bay.This solution combines modern features for washing trains inexpensively from platform or track level. It features a latest generation diesel engine with low pollution impact, hydraulic traction, approx. 1000 liters water tank, acid-based detergent applicator circuit and a second optional brush. Designed exclusively for the extreme service requirements in railway yards, including crossing tracks, the system has a height adjustable brush with a pressure control system to maintain optimal contact with the car surface being washed.
Bogie Washing Plant
Automatic bogie and wheel set cleaner is a two or multi-stage cleaner which cleans a bogie, wheel set or other rail car components in a closed chamber automatically using specially designed high pressure oscillating spray-jet system.
Metro Tunnel Cleaning
For cleaning subway tunnels, this technology detects signaling installations, distribution boxes, or other obstacles, thus enabling accident-free cleaning of the tunnel walls, ceilings, as well as the track bed.The tunnel dust needs to be removed to keep the tunnels clean for the passengers and also for the maintenance workers that have to enter the tunnels to work on the track and other installations.
Rail and Trackbed Cleaning Vehicle
Track cleaning vehicles are used routinely on railway lines to clean the track body and/or grooved rails. The vehicle ensures a fast and efficient cleaning of grooved rails from brake sand, dirt and other debris.The cleaning suction shoes are equipped with integrated high pressure nozzles for contactless groove cleaning. The combination of a rail and track-bed cleaning mechanisms makes the vehicle amulti-functional cleaning system with a wide range of applications.
Bus & Truck Wash
The Multi-wash system works as a truck wash, bus wash and a wash platform for smaller vehicles. The system is very easy to customize for different vehicle types and sizes. By installing a Multi-wash, one can increase the number of vehicles to be washed, and therefore can increase the investment gain.The Multi-wash is equipped with the latest PLC-technology and variable frequency drive.It is also equipped with a control panel with a LCD-display for easier selection of wash programs. Quality wash results are repeatedly achieved by using an automatic speed control system which prevents driver error during the wash process.
Cleaning Systems Projects