Airport Security
Airport Security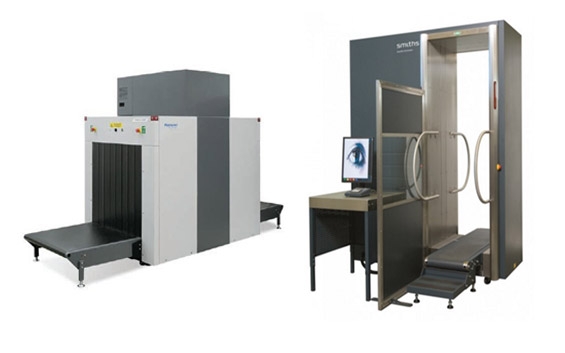 Airport security attempts to prevent any threats or potentially dangerous situations from arising or entering the country. If airport security does succeed in this, then the chances of any dangerous situations, illegal items or threats entering into aircraft, country or airport are greatly reduced. As such, airport security serves several purposes: To protect the airport and country from any threatening events, to reassure the traveling public that they are safe and to protect the country
and their people.
People screening system
People screening system or Full-body scanner is a device that detects objects on a person's body for security screening purposes, without physically removing clothes or making physical contact. Some other features are;
• Contraband and threat detection including: weapons, explosives (plastic and powder), detonators, narcotics, electronic devices, diamonds, precious stones/metals and mobile phones
• Complete head to toe inspection in one short inspection cycle, even if shoes are worn with very low dose rates
• Two distinct technologies are in general use: Millimeter wave scanners and X-Ray machines
BAGGAGE AND PARCEL INSPECTION
From large, dual-view x-ray systems for pallets/cargo to portable mail and small parcel screening devices, and everything in-between; it's engineered innovative and cost-effective solutions for a multitude of high-profile security screening environments using X-Ray and other waves in order to distinguish not permitted elements and devices.
SECURITY BODY SCANNER
• Features simple operation, exquisite design, and convenient conservation, Low failure rate, can detect ferrous metal, and non-ferrous metal, High sensitivity, can easily detect pin-sized metal articles
• High performance handheld metal detector mainly designed for security check
• Can be used in detecting luggage, mail and parcel
• High sensitivity
• Easily detect weapons, such as knife and gun, and any metal articles which are hidden in human body
CARGO AND VEHICLE INSPECTION
Cargo and vehicle inspection X-ray security inspection system was specially developed for the detection of different dangerous and forbidden objects hidden inside passenger vehicles and vans. X-ray security vehicle scanning system uses such a low radiation dose that it allows passengers to remain in their vehicles during the inspection process, that makes this system convenient and safe for passengers
Airport Security Projects